Chimney & Dryer Vent Services Offered
Chimney Sweep
Chimney Flue Sweeping
Chimney Inspections
Dryer Vent Sweeping
We service individual residences, homes, condos, town homes, HOA's and businesses.  Call to make an appointment today:  (970) 726-9581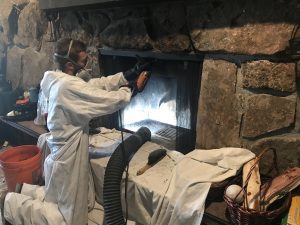 Why Engage A Chimney Sweep?
Did you know that annual fire inspections can help protect you, your home and family?  Everyone loves a fireplace whether out of necessity to heat your home or for the beautiful atmosphere that it adds to the room.  After time, soot and by products of burning a fire build up in your chimney called creosote, which can be an ash like substance to a thick residue.  Creosote often looks like black or brown residue that is crusty, flaky and sticky or shiny all highly combustible.   When you engage a chimney sweep, they can inspect your fireplace and sweep at the same time, ensuring that everything is in good working order and ready to go for another year of use.
We recommend sweeping your chimney annually or no less than every 2 years.   To help educate you on taking care of your fireplace we have provided some resources by the Chimney Safety Institute of America:
Why Hire A Dryer Vent Sweep?
Dryer vents are another potential cause of fire.  People often don't realize that a dryer gets clogged with lint, dust and dander plus other particles. Again, over time, a build up can occur creating the potential for a house fire.  We recommend sweeping your dryer vent annually or no less than every 2 years.  Check out our resources on dryer vents from the Chimney Safety Institute of America:
Grand County's Only Certified Chimney & Dryer Vent Sweep
Our goal is to make sure that the chimneys, fireplaces and dryer vents of our neighbors area are swept, in good condition, and ready to provide another year of quality, reliable service. We use the latest tools in order to do the best service while keeping your house, condo or town home free of any dust or soot.
In order to provide the best possible service, we are certified by the Chimney Safety Institute of America (CSIA). So when you need quality chimney and dryer vent care in Grand Lake or Grand County area, we're the company to call.  Call to make an appointment today:  (970) 726-9581